The [color=]OK[/color] has been given to use the XML Stats:
Yeah why not. We have turned account creation off, so i dont think it will be a problem.
___________
Cheers,
Chrulle
MalariaControl Developer
The name to use is:
I suggest MalariaControl, or Malaria, or MCP (in that order of preference).
Better not Africa@home as that will cover several sub-projects of which MalariaControl is only the first.

Thanks for your help,

Ben Segal / MalariaControl Coordinator
See
[color=]XML thread at MalaricControl Project[/color]
Please note that
[color=]MalaricControl Project[/color]
is in ALPHA test phase and that account creation is currently disabled, so everone doen't need to rush and try to signup. They expect a January 2006 for a public start. See the what is page at
[color=]Africa@home[/color]
for more information.
Thank You, Krunchin-Keith, Alpha tester for: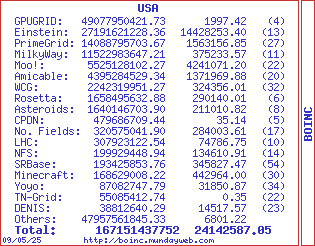 ff/.png">