BOINCstats is made possible by displaying ads. Please consider supporting us by adding us to your whitelist.
Number of visits to this profile:
181
BAM! user since:
December 16 2011
Birthday:
January 1
Country:
Germany
Sex:
Male
Detailed stats:
Forum posts:
9
Member of team:
SETI.Germany
My personal background
Hello buddies,
my nickname is steini and i'm from Berlin, Germany.
About me:
I joined seti@home in december 2000 and stopped participating during starting rumours of BOINC in 2001.
Ten years after a turbulent life i remembered seti@home and tried to login to my old account. At my surprise i guessed right and converted my classic account to boinc successfully.
Since december 2011 back with full force i've donated my unused CPU-time to BOINC.
About my team:
Since 2011 i've also joined the greatest team of Germany - Seti.Germany.
Click on the image to open their website.
I'm participating in many projects.
Here you can see my overall stats:
Maybe you see my profile because i'm the user of the day?
Here you can see how often this has happened: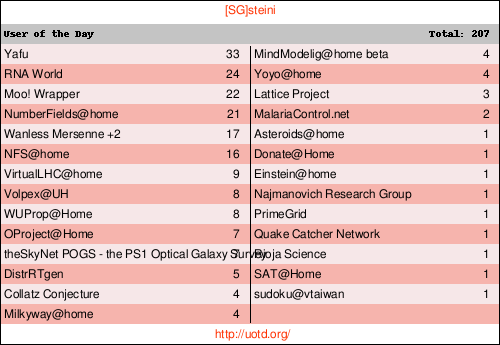 Some projects reward their participants with badges, depending on their finished results.
Here you can see my badges:

PoHeDa
(25)